To start, navigate to the Buildings tab on the sidebar menu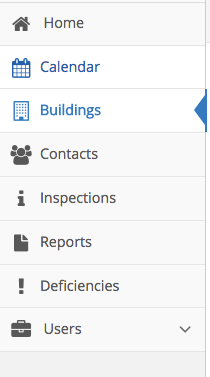 Click the + New Building button located in upper right corner of the screen
Fill in the building details such as name, physical address, and billing address. Details and monitoring information are both optional sections. 
***TIP: Building name and physical both appear on the iPad and the report so make sure to fill in these fields.***
***TIP: Setting a default tech for the building is helpful if the technician is consistent. It is one less step you'll have to take during the scheduling process***
>>> PLEASE NOTE: Before you save the building, it's important you add the fire door group(s) associated with the building.
Scroll until you the Fire Door Group
Click New Fire Door Group and add tome in the blank box 
>>>Continue to click New Fire Door Group to add additional groups. Make sure to name each group. The name you add is what appears on the iPad for the technicians
Click Save when done to save the building